School Performance Arts in Practice Scheme (SPAPS)

"Creative Ballet Animateur Scheme", initiated by the Leisure and Cultural Services Department and presented in partnership with Hong Kong Ballet, is a holistic arts programme, involving ballet, behind-the-scenes and costume workshops in order to stimulate students' creativity. Highly successful and experienced instructors lead the students in their exploration of the art form's basic knowledge and skills, and help the students to enhance their expressiveness, confidence and creativity. In addition to the workshops, activities include in-school introductory dance show, a guided performance on stagecraft - "Magic Theatre" and dance performance, a studio visit, a course-end finale performance and a sharing meeting.

The programme runs from September to June every year.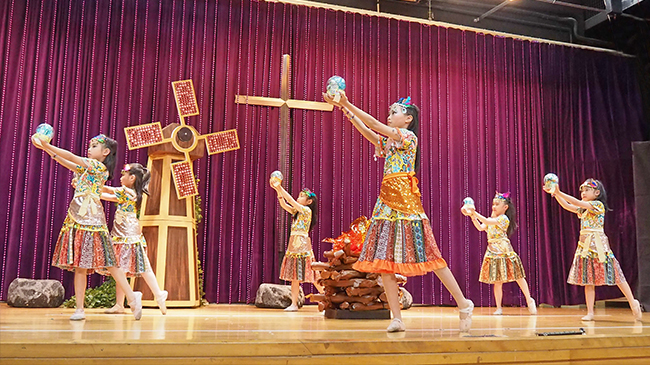 Highlights and Objectives
An 8-month creative training project in ballet

Suitable for any primary school with an interest in ballet

The project includes an introduction session, basic training in ballet, behind-the-scenes and costume workshops, an interactive introduction to stage technology, visits to dance rehearsal or class, and a finale performance, followed by a sharing session

Allows participating schools and students to be part of the production and performance of a classical ballet
Content
The project Le Corsaire tells a captivating story adapted from the poem The Corsair by renowned English poet, Lord Byron. It will guide students towards the creation of an instructive mini ballet drama. Through the workshops, participants will jointly create and perform this timeless ballet drama. They will use their body language to express emotions and participate in the back-stage production process.
An exotic fable of a dashing pirate's love for a beautiful harem girl, Le Corsaire features captive maidens, a rich pasha, suspenseful abductions, dramatic rescues and a poisoned rose, culminating in an unexpected shipwreck as one of the most breathtaking spectacles in all of ballet! This exhilarating production follows the adventures of the dashing pirate Conrad, who goes on a dangerous journey to rescue his true love Medora, who has been captured by a rival. The plot is full of action, passion and romance from its colorful cast of characters!
© Hong Kong Ballet. All Rights Reserved.
Hong Kong Ballet is financially supported by the Government of the Hong Kong Special Administrative Region
Hong Kong Ballet is a Venue Partner of the Hong Kong Cultural Centre